Player's Love To Compete!
This baseball drill emphasizes fielding skills & competition. It's fun & a good test of players' fielding skills & reaction!
Add fun competition to our old game of pepper & watch how this great drill improves your fielders.
How to train your team on the king of the hill baseball drill
Divide the team into two groups during the baseball drill. A coach goes with each group and serves as the "hitter." Players do not use gloves in this game. The reason that gloves are not used is to force players to field the ball with two hands, rather than just using the glove and fielding the ball with one hand. The game is basically "pepper". The coach "hits" a ball towards the fielders and one fielder tries to field the ball. A successful fielder stays in place; a fielder making an error moves to the LEFT end of the line. After the ball is fielded or retrieved a player tosses it softly underhand to the coach to hit, just as in pepper. The game goes on for a minute or two.
When time is up the player on the RIGHT end of the line is the "King of the Hill," or winner. The coach should make an attempt to hit towards every player both for practice and to keep the contest fair. To make the game more interesting, play one contest for a couple of minutes. Then take half of the players from the RIGHT end of each line into a "winners" game and the players from the LEFT half of each group into a "consolation" game. Then play another round and the winner of the "winners" game will be the undisputed "King of the Hill" for the practice.

Here's a simple diagram for a full team divided into 2 groups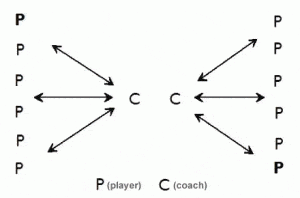 For The Next Level Player
The Pancake Glove is for the player who really understands that handspeed is huge with players who want to stay in the middle of the diamond at 2nd or shortstop (and for catchers too). It's an inexpensive trainer that forces players to add big-time quickness & accuracy in their fielding!

Pete Sprenkle has been active in coaching youth sports for over thirty years. He has coached youth baseball and girls fastpitch softball teams at every age group from 5 to 18-years old. Retired from IBM, Pete now devotes much of his time to youth baseball in his hometown of Boulder, CO.
Pete is also the author of A Youth Baseball Coaches Tool Kit and a Softball Coaches Toolkit. His innovative book and CD contains a collection of nearly 200 "tools" for youth coaches. Packed with drills, contests, forms, and handouts, the Tool Kit will help coaches plan, organize, and coach any level of youth baseball.
---